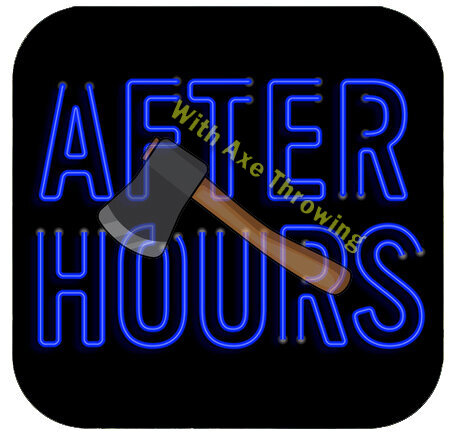 After Hours Party with Axe Throwing
Unlimited Laser Tag and Mini Golf for up to 20 Players
Add additional players for $20.00 + tax
One Hour Use of Axe Throwing Cage
Add additional Hour of Axe Throwing for $150 + tax
Use of Party Room with Air Hockey, Foosball and More!
Plates, Cups, Napkins and Forks
Party Length: 2 Hours
Party Room, Laser Tag Arena and Mini Golf Course are Private
No host provided, but our staff is always available to assist!
You can arrive 10 minutes prior to your party start time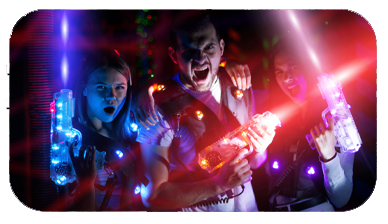 Laser Tag and Mini Golf Fun!
Your group will watch a quick safety video, get vested up and play unlimited laser tag in our arena. They will have a blast as they dodge in and out of our abandoned town! Your group can also play mini golf anytime during your party time!

To play laser tag, players must be at least 5 years of age or older. Those 5 and 6 must play along with a playing adult, 18 years of age or older. One adult must play along with each 5 and 6 year old. Those age 7 and older can play on their own. These adults will be included in your 8 players.

Your guests will be able to play unlimited mini golf and laser tag. For Laser Tag 20 of your playing guests will play in each game.
Click "Add to Cart" above to book your party!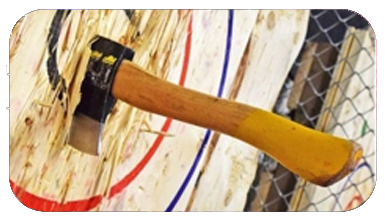 Axe Throwing Fun!
Your guests will take turns showing off their Axe Throwing skills! Your session will start with a quick instructional video. Our attendant will then give you tips on how to hit the bullseye. You will have 60 minutes of Axe Throwing fun!

Players must be 12 years of age to axe throw. For players under the age of 18, a legal guardian/parent must sign a waiver on their behalf and then stay onsite while they axe throw. Those over the age of 18 will sign their own waiver. Waivers are signed in the store prior to the axe session. Party parents cannot sign waivers for anyone other than themselves and their own children.

Players must wear closed toe shoes.

Add an additional hour for only $150 + tax.
Must be added prior to the date of your party to assure adequate staffing
Click "Add to Cart" above to book your party!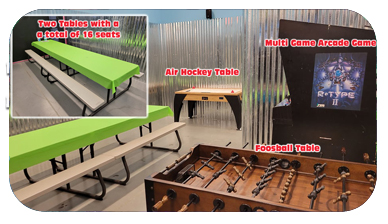 Private Party Room
You will have exclusive use of our party room for a 2 hour period, including use of our air hockey table, foosball table and a multi-game video game .

There are 16 seats at two tables and limited standing area in our party room, so keep this in mind when planning the size of your party. You will also have access to couches and chairs in our lounge as well as bench seating in our lobby.

You will have access to our party room 5 to 10 minutes prior to the start time of your party. We ask that you arrive no earlier than 10 minutes prior to your start time as we will be working to prepare the room for you.

You are welcome to bring in balloons, table decorations, tablecloths, plates, cups and napkins if you prefer a theme. Please no noise makers, sparklers, confetti, glitter or decorations that need to be attached to walls. We provide a solid colored table cloth, plates, napkins & cups. Decorations can be set up when you arrive at your party start time. Unfortunately we can't allow you to come in early as other customers will be using our party area. Please no clowns, photo booths, etc. as our party schedule is full and there is not time for outside activities.

A dedicated party host is not provided, but our staff is always available to provide assistance!
Click "Add to Cart" above to book your party!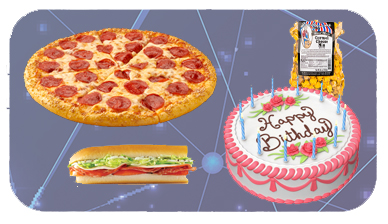 Food Options
We do not have any instore food options, but you are welcome to bring in, or have food delivered. Pizza, sandwiches, and snack foods are great options! You may also bring in cake and ice cream. We have a freezer where ice cream can be stored.

Alcoholic beverages are not allowed..

If you plan on delivery, please have delivery scheduled with the schedule listed below in mind.

Suggested vendors:

Champ Pizza 360-360-4490 - www.champpizza.com
Located on mall property


Click "Add to Cart" above to book your party!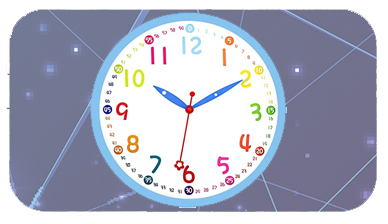 Party Schedule
Because we have parties booked back to back with only 15 minutes in between parties to clean, we ask that you arrive no earlier than 10 minutes prior to your party start time. We will clean the room as quickly as possible and provide access to the room 5 to 10 minutes prior to your party start time.

Your Party Schedule

Your group is welcome to begin playing laser tag and mini golf as soon as your party starts.

Your axe throwing session will begin right at the start of your party time as that is when staff will be scheduled for this attraction. Please have guests ready to begin their axe throwing session by having waivers signed.

You can plan food and presents whenever you like during the two hour period, we just ask that you plan so that you can finish by the end of your party time.

We ask that you please be ready to turn the party room over to our staff at the end of your party time so that we can prepare the room for the next party.
Click "Add to Cart" above to book your party!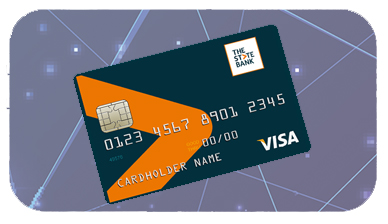 Payment and Deposit
A $100 deposit is required when booking your party. This deposit is applied toward the amount owed for your party package. Cancellations must be made 14 days prior to your party date for your deposit to be returned. After 14 days, the deposit amount is non-refundable. As we are in the middle of a pandemic, if a member of the booking household tests positive for Covid within 14 days of the reservation, the party can be rebooked to another date, but unfortunately the deposit is still non-refundable as we have lost the opportunity to book that party slots.
Click "Add to Cart" above to book your party!