Celebrate Your Birthday at Laser Blasters!
Birthday Parties are back! Enjoy socially distanced fun!

Due to Covid restrictions, we are not currently able to offer pizza or soft drinks. You may bring in individually packaged drinks and cake. We suggest cupcakes that can be sent home with the children.

If you do bring in cupcakes, please keep in mind that we have to follow restaurant guidelines. We have to limit to 6 people at a table with no more than 2 family groups.


Google Review: Hosted a birthday party at this location. Initially I had a party schedule for my kid, but he had the flu. I was able to call and reschedule with no issues.Staff was friendly and greeted me when I arrived. Place was big enough to host 12 kids and 5 adults. My personal host did a terrific job of making sure everyone was happy and accommodated. I would highly recommend this place for a party and to have fun. - Aaron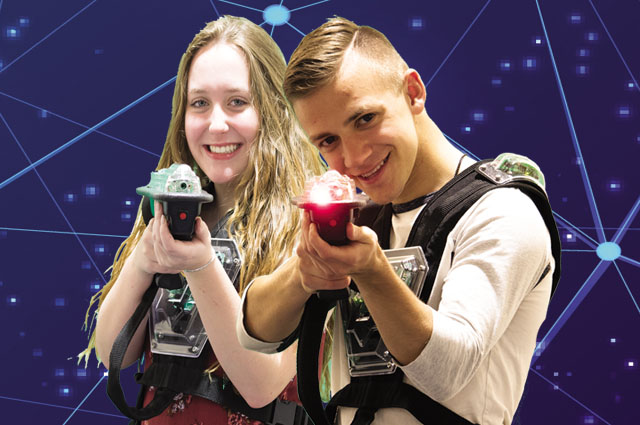 2 Games of Laser Tag Party
$190 + Tax Includes:
8 Laser Tag Playing Guests
6 Non Playing Guests
2 Games of Laser Tag for Playing Guests
Dedicated Party Host
Use of Party Room
Use of Game Room and Free Play Games
May Bring in own Cake & Drinks - No other outside food allowed
Each additional Playing Guest - $17 + tax (up to 10 additional) Each additional Non Playing Guest - $3

+ tax (up to 4 additional) Click "Reserve" for full party details
Reserve - 2 Games of Laser Tag Party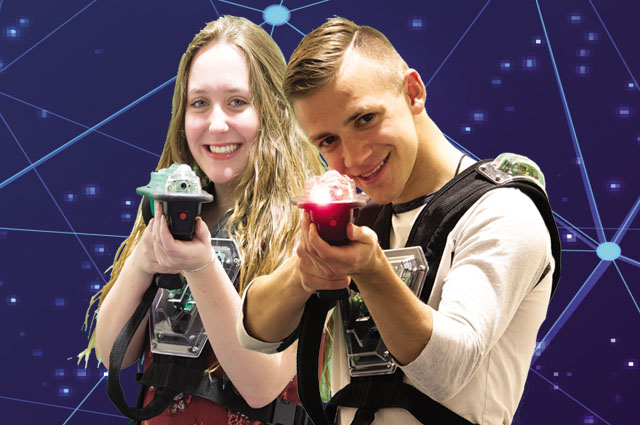 3 Games of Laser Tag Party
$250 + Tax Includes:


8 Laser Tag Playing Guests
6 Non Playing Guests
3 Games of Laser Tag for Playing Guests
Dedicated Party Host
Use of Party Room
Use of Game Room and Free Play Games
May Bring in own Cake & Drinks - No other outside food allowed
Each additional Playing Guest - $24.50 + tax (up to 10 additional)
Each additional Non Playing Guest - $3 + tax (up to 4 additional)
Click "Reserve" for full party details
Reserve - 3 Games of Laser Tag Party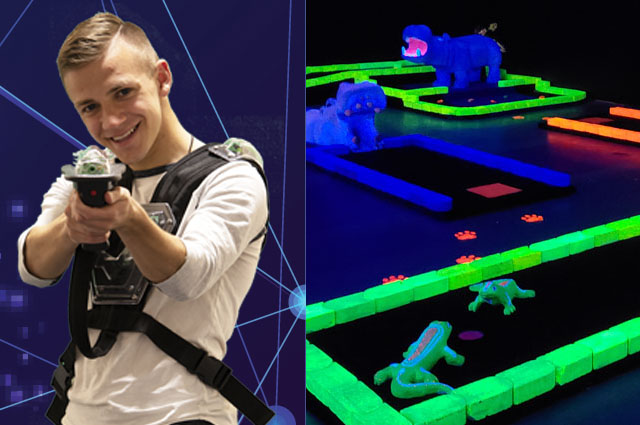 1 Game of Laser Tag & 1 Game of Mini Golf Party
$190

+ Tax Includes:
8 Laser Tag & Mini Golf Playing Guests
6 Non Playing Guests
1 Game of Laser Tag & 1 Game of Mini Golf for Playing Guests
Dedicated Party Host
Use of Party Room
Use of Game Room and Free Play Games
May Bring in own Cake & Drinks - No other outside food allowed
Each additional Playing Guest - $17 + tax (up to 10 additional) Each additional Non Playing Guest - $3

+ tax (up to 4 additional) Click "Reserve" for full party details
Reserve - 1 Game of Laser Tag & 1 Game of Mini Golf Party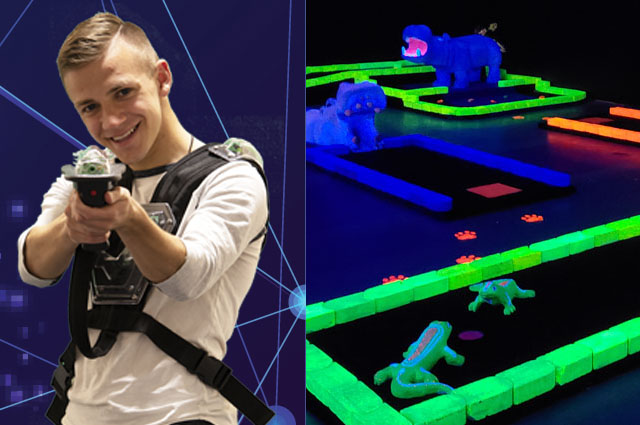 2 Games of Laser Tag & 1 Game of Mini Golf Party
$250

+ Tax Includes:
8 Laser Tag & Mini Golf Playing Guests
6 Non Playing Guests
2 Games of Laser Tag & 1 Game of Mini Golf for Playing Guests
Dedicated Party Host
Use of Party Room
Use of Game Room and Free Play Games
May Bring in own Cake & Drinks - No other outside food allowed
Each additional Playing Guest - $24.50

+ tax (up to 10 additional) Each additional Non Playing Guest - $3

+ tax (up to 4 additional) Click "Reserve" for full party details
Reserve - 2 Games of Laser Tag & 1 Game of Mini Golf Party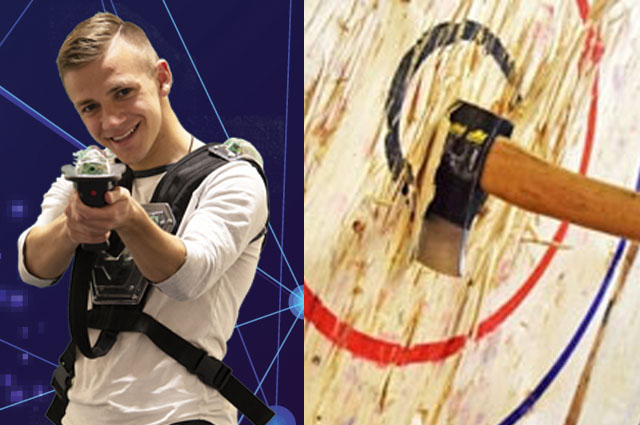 Laser Tag & Axe Throw Party
$240

+ Tax Includes:
8 Laser Tag Playing Guests
6 AxeThrowing Playing Guests
6 Non Playing Guests
1 Games of Laser Tag for Laser Tag Playing Guests
One hour of Axe Throwing for Axe Throwing Playing Guests
Dedicated Party Host
Use of Party Room
Use of Game Room and Free Play Games
May Bring in own Cake & Drinks - No other outside food allowed
Each additional Laser Tag Playing Guest - $10.00

+ tax (up to 10 additional) Each additional Non Playing Guest - $3

+ tax (up to 4 additional) Click "Reserve" for full party details
Reserve - Laser Tag and Axe Throw Party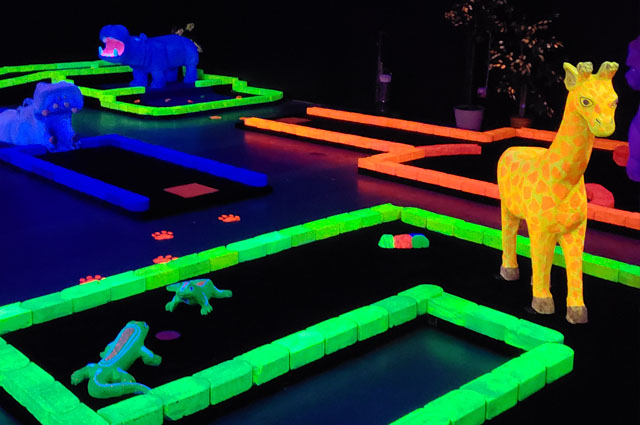 Mini Golf Party
$125

+ Tax Includes:
8 Mini Golf Playing Guests
6 Non Playing Guests
1 Game of Mini Golf for Playing Guests
Dedicated Party Host
Use of Party Room
Use of Game Room and Free Play Games
May Bring in own Cake & Drinks - No other outside food allowed
Each additional Playing Guest - $10

+ tax Each additional Non Playing Guest - $3

+ tax (up to 4 additional) Click "reserve" for full party details
Reserve - Mini Golf Party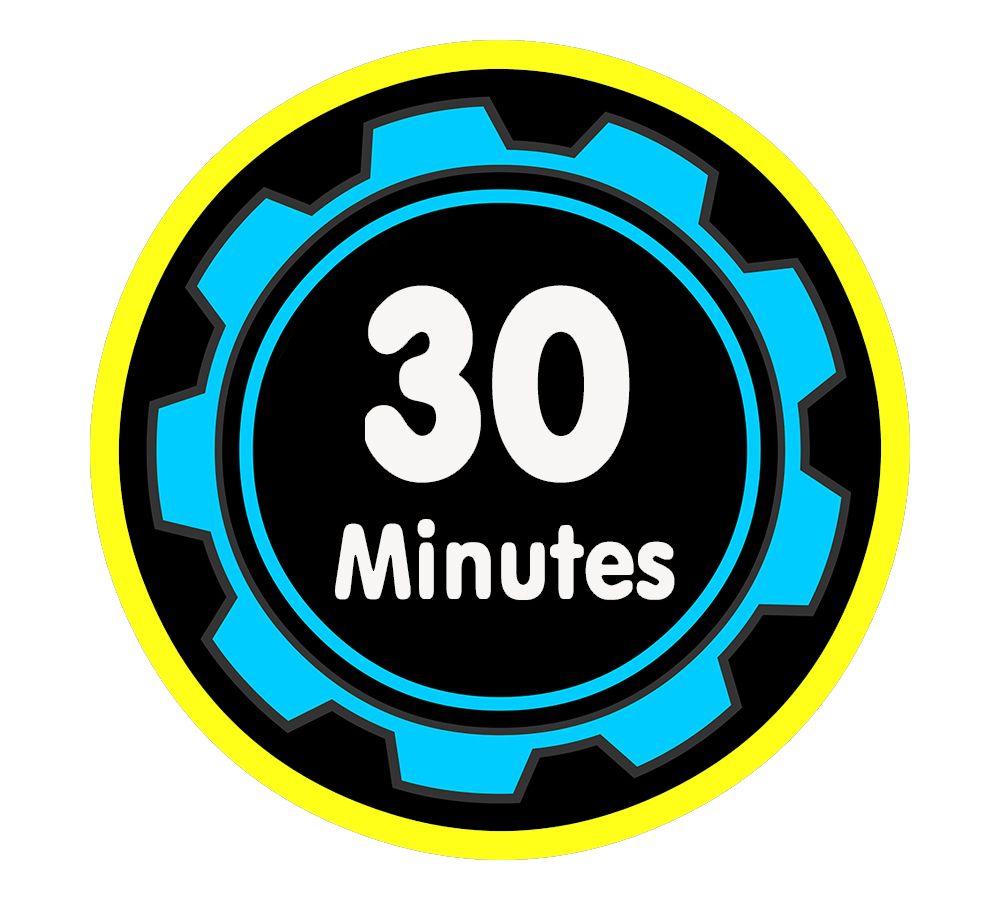 Virtual Reality Party
$145

+ Tax Includes:
Up to 10 Virtual Reality Playing Guests
Up to 6 Non-Playing Guests
Dedicated Party Host
Use of Party Room
Use of Game Room and Free Play Games
May Bring in own Cake & Drinks - No other outside food allowed
Click "reserve" for full party details
Reserve - 30 Minute VR Party

For questions on Birthday Party Packages, complete the form below: