The rates above are available for Church youth groups, sports teams and other non-profit groups.
We will ask to see a business card or other organization id to verify eligibility.
If you don't see an option that works for you, reach out to us by completing the contact form below.
Schedule your group during our unlimited sessions on Wednesday through Friday nights. Play up to three hours of laser tag and mini golf for only $20 plus tax per person.

If you group can't make it in during our scheduled unlimited time slots, or your group is larger than 30 players, reach out to us and we will make special arrangements for your group! Unfortunately weekends are busy and we are unable to schedule unlimited sessions during regular business hours. An after or before hours event may be an option depending on the size of your group.

For our scheduled unlimited sessions there are only 30 unlimited spots available. With your spot you will be able to play unlimited mini golf and laser tag. For Laser Tag you will be sharing the 20 phasers that we have available with other unlimited players and players that buy individual games. You may not be able to play continuously as will give all players an equal opportunity to play, but you will get to play to play LOTS of laser tag during the 3 hour period!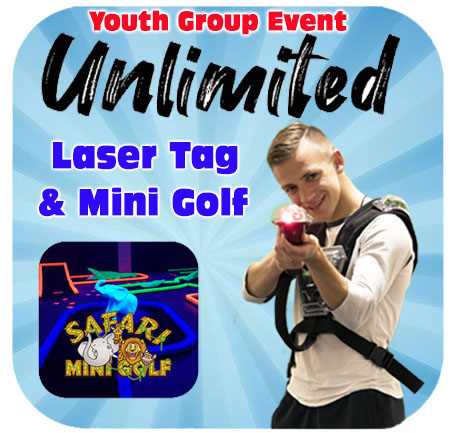 Youth Group Rate - Unlimited Laser Tag and Mini Golf
Available on Wednesdays through Fridays from 5:00pm to 8:00pm

Only 30 spots are sold for each session. It is possible that we will sell out, especially on Friday nights. Once the 30 slots are sold, no additional players can be added to existing orders, and no other spots will be sold.

Price: $20.00 plus tax per player
Reserve Youth Group Rate
Complete the contact form below for more information. Our owner will reach out to you to discuss the best options for your group!
Sorry, this item is not available either because the particular order options (customer pickup) are not available for this item or because the date and/or time you have seleted are not available. If you have any questions, please call our office at ...