Bring your friends in for a game of socially distanced fun at Laser Blasters! We are now open at limited capacity for Laser Tag!

What looks different due to Covid? When you arrive, we will give a quick socially distanced versions of rules. We then ask you to vest up on your own, allowing social distancing between your group and our staff. You will then head to the arena where you will play socially distanced games of laser tag. Our staff member will observe your game from behind our desk, protected by a sneeze guard. Don't worry, our staff will still assure your safety as they monitor your game on our large monitor with video footage of our arena. At the end of your game, we ask you to place your laser tag vest in a bin. It will then be sanitized before use by our next guests.

Limited Capacity: We are operating at limited capacity due to covid regulations. You may play with customers outside of your party depending on current walk-in and customer reservations. If you are looking for a private game, we suggest a private group reservation on Tuesdays and Wednesdays when our facility is closed to the public. During regular business hours we cannot guarantee a private game!

Who Can Play? Players 7 years of age and older can play on their own. Players 5 and 6 years old, can play when accompanied by a playing/paying adult. Each 5 and 6 year old must have one adult playing along with them. One adult can not play with multiple 5 and 6 year olds! Unfortunately due to insurance rules kids under the age of 5 are unable to play.

Come Prepared! It can get warm while playing, so dress light and ready for fun! Remember that whites and other bright colors can glow under black lights, and you don't want to stand out! Wear comfortable shoes. No opened toed shoes or sandals are allowed!

Reserve Your Spot Online: You can reserve your spot in a game before you even come into the arena! Click the link below to reserve a game time online. Remember to arrive 10 minutes prior to your game time. Your safety briefing will start at your game start time. If you do not arrive by your scheduled time you will have forfeited your spot in the game, and no refunds will be provided!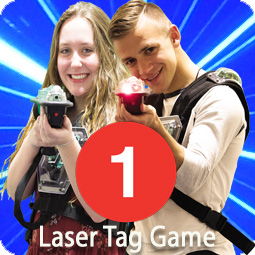 One Game of Laser Tag - One Player
Grab your friends and come in for a game of Laser Tag. Make a reservation here to assure your spot in the game!

SPECIAL PRICING - Thursdays and Fridays for a limited time! One Game for One Player: $5.00 plus tax

One Game for One Player: $8.00 plus tax


One Game of Laser Tag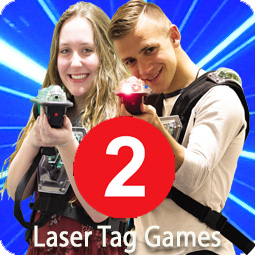 Two Games of Laser Tag - Same Player
Play two games and save! Make a reservation here to assure your spot in two consecutive games!

Two Games for One Player: $15.00 plus tax


Two Games of Laser Tag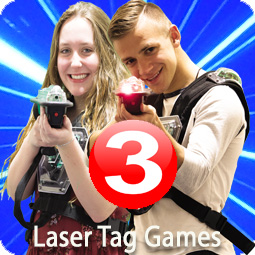 Three Games of Laser Tag - Same Player
Play three games and save! Make a reservation here to assure your spot in three consecutive games!

Two Games for One Player: $22.50 plus tax


Three Games of Laser Tag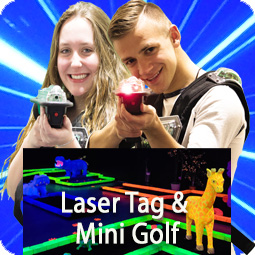 One Game of Laser Tag and One Game of Mini Golf - Same Player
Play both laser tag and mini golf and save! Make a reservation here to assure your spot in both a laser tag and mini golf game!

One Game of Laser Tag and One Game of Golf for One Player: $15.00 plus tax


One Game of Laser Tag & One Game of Mini Golf