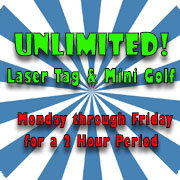 Unlimited Laser Tag and Golf
Play unlimited Laser Tag and Mini Golf for a three hour period. Choose from Noon to 3:00pm or from 5:00pm to 8:00pm on specific dates.

There are only 30 unlimited spots available. With your spot you will be able to play unlimited mini golf and laser tag. For Laser Tag you will be sharing the 20 phasers that we have available with other unlimited players and players that buy individual games. You may not be able to play continuously as will give all players an equal opportunity to play, but you will get to play to play LOTS of laser tag during the 3 hour period!

Players must be 5 years of age to play. Sorry, we cannot make exceptions to the age restrictions. Kids that are 5 or 6 years old MUST have a Paying Guest that is an adult 18 years of age or older that plays along side them. One Adult Paying Guest for each Playing Guest that is 5 or 6 years old. Those 7 and older can play on their own.