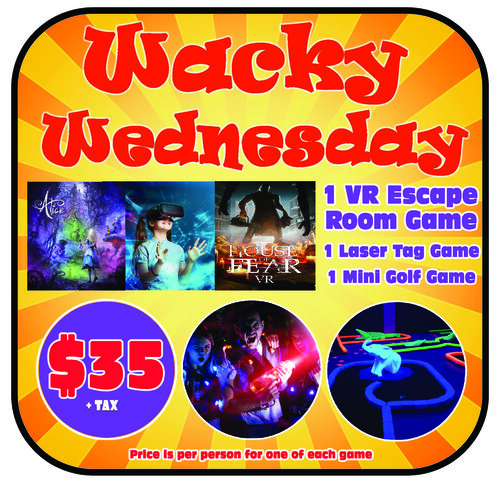 Wacky Wednesday Special
Enjoy one of our VR Escape Room Games, a Game of Laser Tag and a Game of Mini Golf for the same player for only $35.00 + tax.
Players must be at least 7 years of age to play virtual reality. For our virtual reality escape room games it is suggested that players be 13 years of age and older. Younger players tend to find that the escape room games are too challenging and they don't last the the length of the game. If this happens, it is hard to for all players to finish the game as there are parts of the games that need all players to take part. Keep in mind that refunds are not provided if players decide not to finish the game.
A waiver must be on file for each player playing virtual reality or our VR escape room games. For those under the age of 18, a waiver must be signed by a legal guardian. Click the pink "SIgn Waiver" button to sign the waiver before you come in.