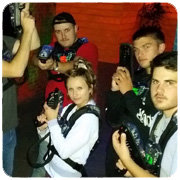 Two Private Laser Tag Games
Two Private Laser Tag Game for up to 10 Players
Get the best of social distancing when you reserve two private game for your group.
Up to 10 players compete
as our arena is reserved just for your group! Each game is 15 minutes long, 5 minutes for breifing and vesting and 10 minutes of game play. Your group will play two back to back games in our arena.
Pay online

When you arrive, head straight to our laser tag waiting area.

Our laser tag ref will come get you and escort you directly into our laser tag arena!
Additonal Details:

How Players can play with my reservation? You are reserving one private game in our arena. Up to 10 players can play! The price is the same for 2 players or 10 players!

Are there Age Restrictions for those Playing Laser Tag? Guests age 7 and older can play on their own. If you have Guests that are 5 or 6 years old, they MUST have a Guest that is an adult 18 years of age or older that plays along side them. One Adult Guest for each Guest that is 5 or 6 years old. Unfortunately those under the age of 5 are unable to play Laser Tag. Please assure that when choosing the amount of Playing Guests that you factor in the adult Guests needed to play along with the 5 and 6 year olds that are playing.

Will we be playing Laser Tag with other customers? No, because you have chosen the private game option, your guests will be the only ones in our arena, other than our referee.

When can I arrive for my game? You may arrive 10 minutes prior to your start time. Please do not arrive ealier as space is limited in our waiting areas.

Arrival instructions: When you arrive, once inside our doors, turn to your left as soon as you enter. Follow the signs to our waiting areas. The referee will come get you when it is your game time. Be prepared to show proof of payment on your phone or by bringing in a printed reservation confirmation.