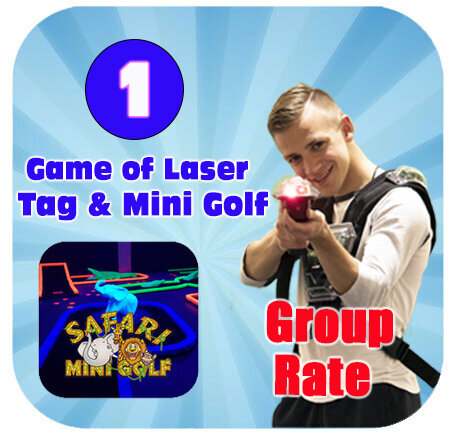 Group Rate 1 Game of Laser Tag and Mini Golf
Only $13.00 + tax per player - This discounted Group Rate is only available when purchased online. It is not available in the store. Tickets purchased are non-refundable as we are reserving a large number of spots in laser tag games, which then become unavailable to other customers.
Purchase 1 Game of Laser Tag and Mini Golf for your group of at least 10 players at a discounted rate. The package includes 10 players and additional players can be added during the checkout process. You can purchase up to 10 additional players as the limit of players in each laser tag game is 20. Please keep in mind that when adding players that they are non refundable, so only add the players that are confirmed. If you do not purchase all 20 spots, they may be added at a later time, but only if there are remaining spots in the games you are scheduled for. Your Laser Tag game will be played at the time scheduled, followed by Mini Golf
Challenge your friends to a game of laser tag. Games are 10 minutes long with a 5 minute traning time beforehand. Arrive 10 minutes prior to your chosen time to avoid missing the start of your game time. After your Laser Tag game, your group will play Mini Golf to see who can get the lowest score.
Players must be 5 years of age to play. Sorry, we cannot make exceptions to the age restrictions. Kids that are 5 or 6 years old MUST have a Paying Guest that is an adult 18 years of age or older that plays along side them. One Adult Paying Guest for each Playing Guest that is 5 or 6 years old. Those 7 and older can play on their own.