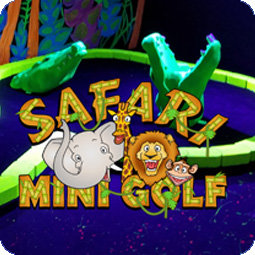 Mini Golf Party
Mini Golf Party Includes:
Each additional Playing Guest - $10 + tax (up to 12 additional) Each additional Non Playing Guest - $3 + tax (up to 4 additional)
8 Playing Guests

6 Non-Playing Guests

1 Game of Mini Golf for Playing Guests

Dedicated Party Host

Use of Party Room

Use of Game Room and Free Play Games

May Bring in own Cake & Drinks - No other outside food allowed
Additonal Party Details:

How Long is my party? You will have use of our party and game room for a 2 hour peroid.

How Many People Can Attend the Party? Your party includes 8 Playing Guests and 6 Non-Playing Guests. See information below on adding additional Guests.

Who are Playing Guests? Playing Guests are those that will be playing Mini Golf.

Can I Add-On additional Playing Guests? You can add additional Playing Guests for $10 + tax.

Who are Non-Playing Guests? Non-Playing Guests are those attending the party that will not be playing Mini Golf. These guests will join your group in our game and party room, they just won't join in on playing mini golf.

Will we be playing Mini Golf with other guests? Our blacklight mini golf course will be open to other players while your group plays. We ask that the adults in your group help monitor the kids while they play.

When can I arrive for my party? You may arrive 10 minutes prior to your start time. Please do not arrive ealier as space is limited in our lobby.

Is there a deposit required when booking a party? A $100 deposit is required when booking your party. This deposit is applied toward the amount owed for your party package. Cancellations must be made 14 days prior to your party date for your deposit to be returned. After 14 days, the deposit amount is non-refundable.

Is food included in my party package? Food is not included, but during the reservation process you can add Pizzas for $18 + and 2 Liter Bottles of Soda for $2 + tax.

Can I bring in food? You may bring in a cake, ice cream and drinks. No other outside food is allowed!

Can I bring in decorations, clowns, photo booths? You are welcome to bring in balloons, table decorations, tablecloths, plates, cups and napkins if you prefer a theme. Please no noise makers, sparklers, confetti, glitter or decorations that need to be attached to walls. We provide a solid colored table cloth, plates, napkins & cups. Decorations can be set up when you arrive at your party start time. The kids will be playing in our game room during the first part of your party allowing time for decorating. Unfortunately we can't allow you to come in early as other customers will be using our party area. Please no clowns, photo booths, etc. as our party schedule is full and there is not time for outside activities.

What games are in the game room and do we have to pay extra for them? The following games are included at no charge with your package: Air Hockey, Foosball, Skee Ball, Mad Dash, Megawire and Cannonball Air Blasters. Our Laser Maze is available as an add on to your package for a discounted rate of $2 + tax per person. Cannonball Air Blasters and the Laser Maze as well as our restrooms remain open to other customers during birthday parties. You may see our staff escort customers in to play games or use the restrooms. Once they are finished with their game or the restroom, our staff will escort them out of the game room.

What is the scheule for my party?
First 30 minutes: Check in, kids play in game room
The next 45 minutes will be spent in our party room with pizza and Pop (if added to your package) followed by time for presents.
The last 45 minutes will spent playing mini golf.